Our People
Overview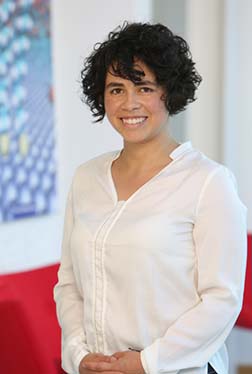 Andrea Pacheco
PhD Researcher
Andrea was born in Tunja – Colombia. She received her bachelor and master degree in Physics from Universidad Nacional de Colombia (Sede Bogotá). She has experience in optical design, leadership and optics outreach. Andrea enjoys to promote science in all possible ways and education levels.
She started her PhD. studentship in Science – Physics in Biophotonics team at Tyndall National Institute in 2017. She is working on the challenge of developing a clinical device to monitor oxygen levels in the lungs of preterm babies in a non-invasive way. If successful, this technology will greatly help in the respiratory health care of these vulnerable patients. Her project is in Collaboration with the INFANT Centre based at the Cork University Hospital and is founded by Science Foundation Ireland.
Andrea has been awarded third place in poster presentation at Infant research day 2017, First place in Tyndall Poster Competition 2017 and first place poster presentation in Photonics Ireland Conference 2018. She was awarded the SPIE Optics and Photonics Education Scholarship in May 2018 and was a nominee for the IOP Early Career Physics Communicator 2018 Award.