Monolithic and Heterogeneous Integration
'Printed photonics on anything'
The Monolithic and Heterogeneous Integration theme will develop a range of essential semiconductor material, device and integration technologies, with a key objective being to find new ways to combine photonics and electronics together on multiple substrates (silicon, ceramic, polymer etc.) with unprecedented simplicity and cost-effectiveness, using transfer printing. We refer to this colloquially as "printed photonics on anything".

Research Highlight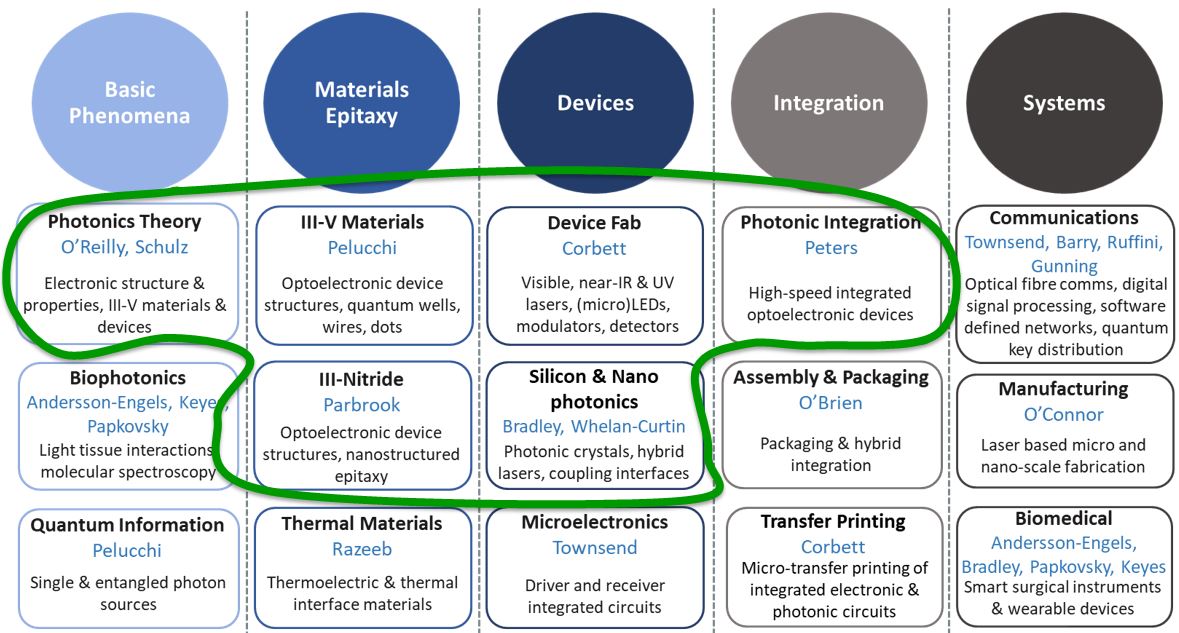 Recent Publications
News
Talks for IPIC 2020 Summer Bursary
ECIO 2020
The European Conference on Integrated Optics 2020 was held virtually this year. We have several researchers, students, and staff attended this meeting.
Please find one from one research assistant, Zhengkai Jia.
Name: Zhengkai Jia, Hua Yang, Hui Wang, Xing Dai, Alison H. Perrott, Frank H. Peters
Title: Quantum Well Intermixing of InP-Based AlInGaAs Quantum Wells Using IFVD Technique and the Mask Boundary Effect
Abstract: This paper presents research on quantum well intermixing (QWI) using impurity-free vacancy-disordering (IFVD) while studying the effect of the QWI mask boundary. Using a SiNx film deposited by PECVD as a QWI mask and annealing under 725˚C for 2 minutes, a 120nm wavelength blue shift of a FP laser is achieved using an InP-based AlInGaAs quantum well laser material. It is found that a 7.5µm margin is needed between the QWI mask edges and the non-QWI area during the QWI process. This will be a valuable reference for design and fabrication of photonic integration circuits (PICs) using QWI.
Activies during COVID-19 lock-down
Dr. Agnieszka Gocalinska did 2 online outreach meetings, on 29th and 30th of April, with primary school children ("Playing with the rainbow" adapted workshop for the younger group (6-10 year olds), and career talk with some added demos for older kids (10+).
Theme Director
Theme Co-ordinator
PIs
Do you Want to join
The Tyndall IPIC Team?
We are seeking best-in-class researchs to join our internationally renowned team